SMACO
SMACO S700 2L Scuba Tank Portable Mini Scuba Diving Tank—with 20-25 Minutes
SMACO NEWEST UPGRADED
New Arrivals, S700 2L Scuba Tank.
Yes, it's coming! ! Our customers have given us feedback that 1l is a little small, 2l or 3l would be better. So Now!! SMACO S700 was born.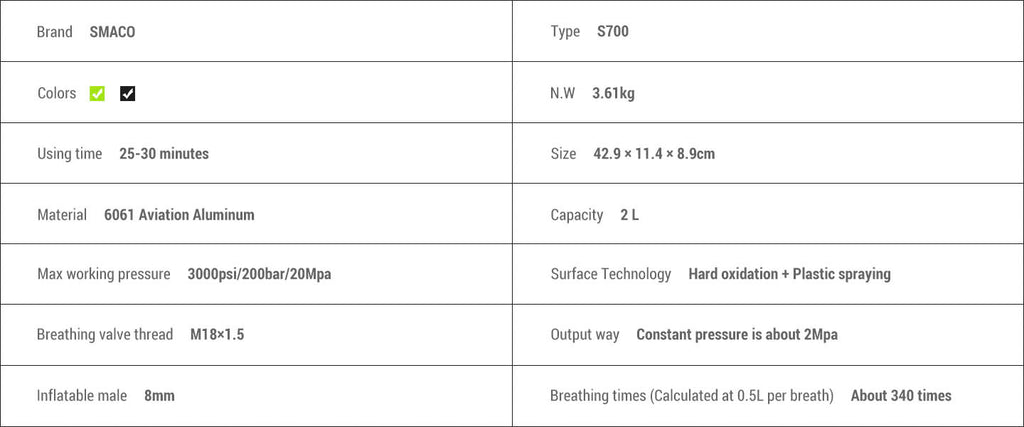 S700 scuba tank uses an extension tube to connect to the pressure gauge, which is more convenient for us to check the pressure gauge when diving. At the same time, our S700 series uses a backpack, which can be adjusted according to your needs. You can easily carry diving tank and free your hands to do more things underwater.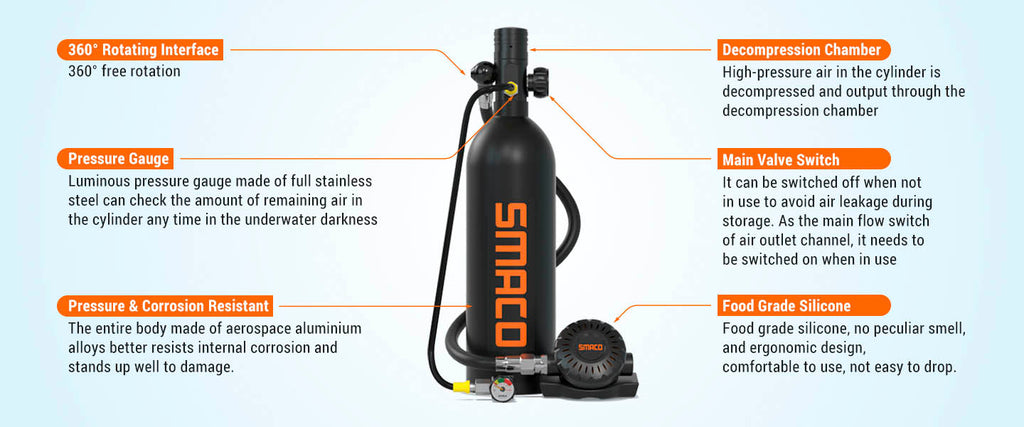 LARGER CAPACITY BUT PORTABLE
SAMCO diving tank has a capacity of 2L and can be used for 540 underwater breaths at full capacity. It can be used for 20-25 minutes of diving time. We use an aluminum hard case, and diving bottles, adapters, and a cloth bag can all be placed in the aluminum hard case. Better for everyone to carry.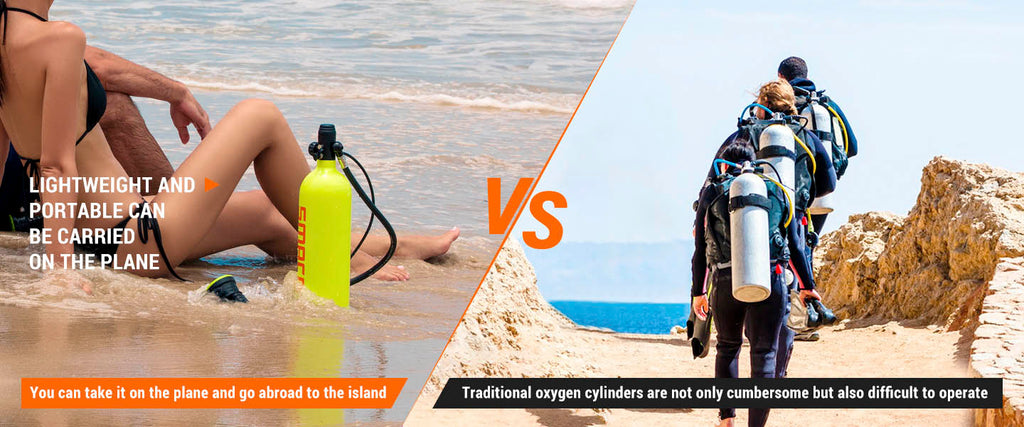 COMPARED TO TRADITIONAL REGULATORS
THREE GAS-FILLED METHODS
You can go directly to the dive shop to inflate. Or, you can use 8mm SMACO refill adapters, large bottles guide vials, usually filling a 2-liter diving tank in 16 seconds. If you have a high-pressure electric pump at home (The pressure of the electric pump must be higher than 3000PSI/200Bar/20MPA), it is convenient for you to inflate the diving bottle. Please don't buy a high-pressure hand pump to inflate a 2L diving bottle, unless you want to exercise.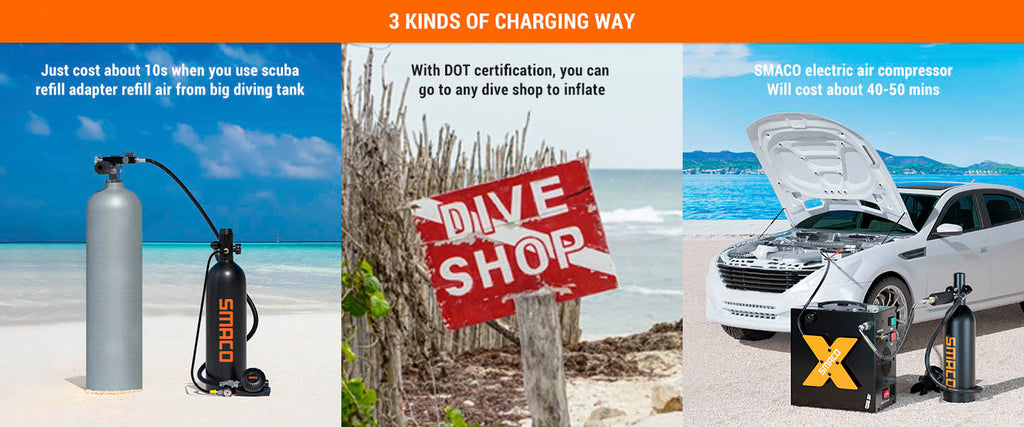 APPLICATION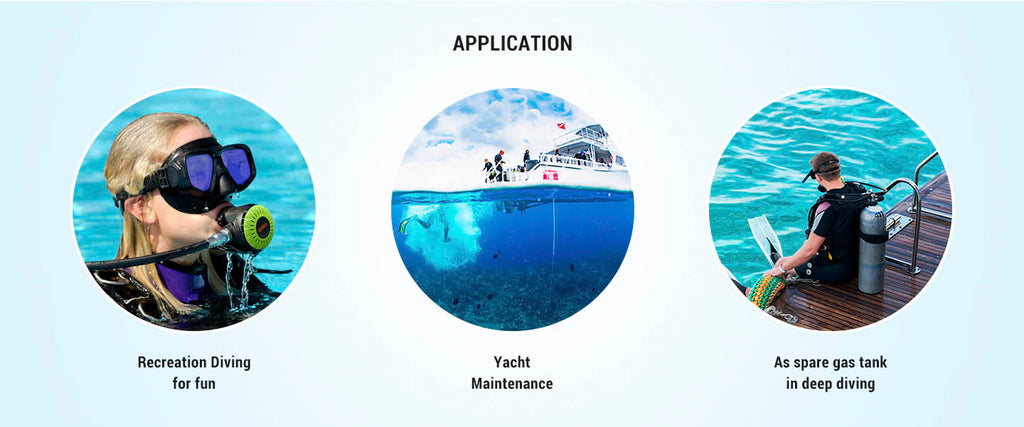 DOT CERTIFIED SCUBA TANK
In order to solve the pain of not being able to inflate in the dive shop, we have DOT certified for our diving bottles. You can solve the inflation problem of the diving bottle more freely according to your own needs.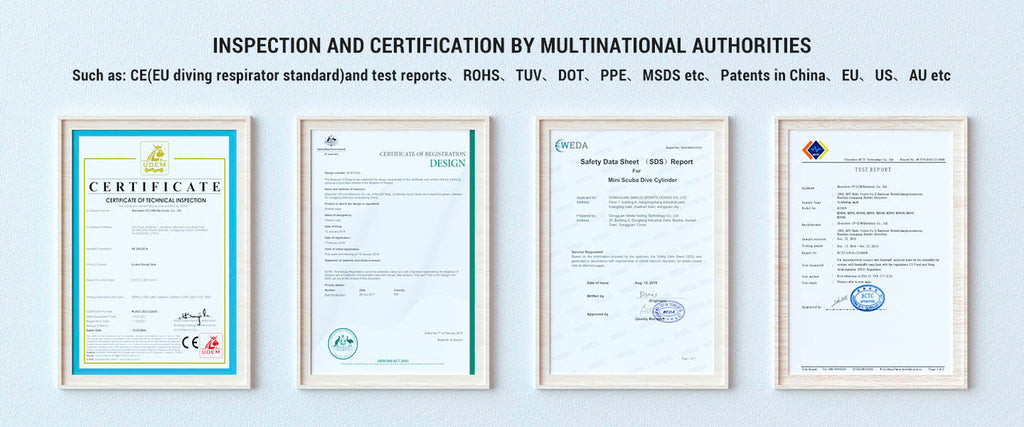 WHAT YOU WILL GET
Set A: a 2L scuba tank, aluminum hard case, a vest

Set B: a 2L scuba tank, aluminum hard case, a vest and a refill adapter
Set C: a 2L scuba tank, aluminum hard case, a vest  a refill adapter, and a smaco heap 1 electric air compressor
❤24 hours services online.❤Lifetime Customer Support.
SMACO S700 2L Scuba Tank Portable Mini Scuba Diving Tank—with 20-25 Minutes