SMACO
Regular price
$469.99 USD
Regular price
$599.99 USD
Sale price
$469.99 USD
Unit price
per
Sale
Sold out
SMACO NEWEST UPGRADED S700 2L Scuba Tank
S700 2L scuba tank uses an extension tube to connect to the pressure gauge, which is more convenient for us to check the pressure gauge when diving. At the same time, our S700 series uses a backpack, which can be adjusted according to your needs. You can easily carry diving tank and free your hands to do more things underwater.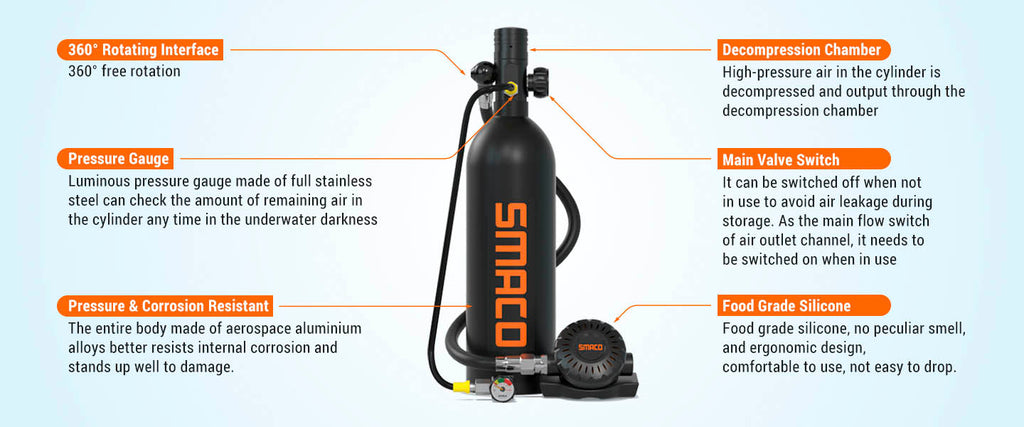 LARGER CAPACITY BUT PORTABLE
SMACO S700 diving tank is a capacity of 2L, and which could provide 20-25 minutes underwater breath(Different environments and breathing rates may have different times). We use an aluminum hard case, and diving bottles, adapters, and a cloth bag can all be placed in the aluminum hard case. Better for everyone to carry.
COMPARED TO TRADITIONAL REGULATORS
THREE GAS-FILLED METHODS
1.Go to the dive shop to inflate with a smaco refill adapter.
2.Large bottle into small bottle. Use an 8mm SMACO refill adapters, usually filling a 2-liter diving tank in 16 seconds.
3.Use high-pressure electric air compressor at home (The pressure of the electric pump must be higher than 3000PSI/200Bar/20MPA). It is convenient for you to inflate the diving bottle.
SCUBA TANK DOT CERTIFIED 
In order to solve the pain of not being able to inflate in the dive shop, we have DOT certified for our diving bottles. You can solve the inflation problem of the diving bottle more freely according to your own needs.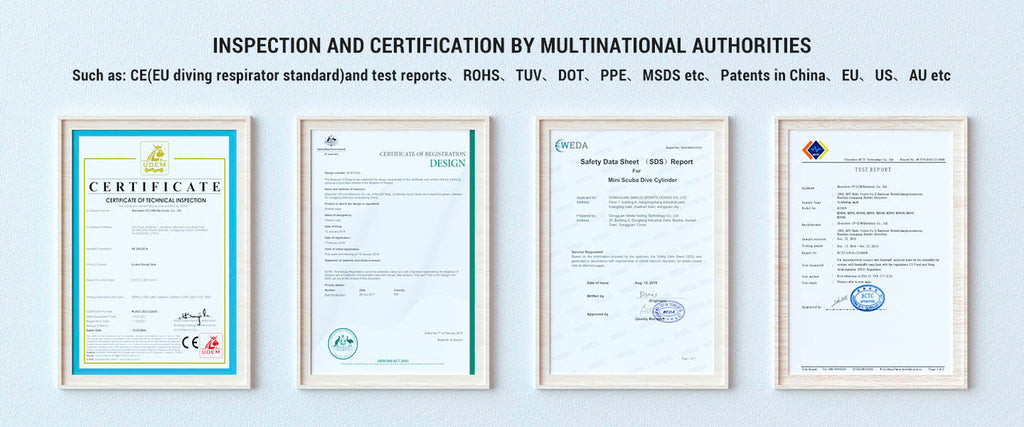 WHAT YOU WILL GET
Set A: a 2L scuba tank, aluminum hard case, a vest

Set B: a 2L scuba tank, aluminum hard case, a vest and a refill adapter
Set C: a 2L scuba tank, aluminum hard case, a vest and HEAP 1 electric air compressor

Set D: a 2L scuba tank, aluminum hard case, a vest and M8058 full face diving mask

For 1.9liter or 2liter: 2l in Europe, 1.9l in America
Warning:
Please do not use this product before you read and understand the instruction and notes.
1. This product is suitable for recreational diving gas sources within 10 meters. Do not try to use it as a gas source in deeper waters.
2. This product can be used as a spare air source for recreational diving within a depth of 30 meters.
3. Before using this product, t is strongly recommended that you be trained or certified by a recognized certification body in scuba diving technology. The use of this breathing apparatus by uncertified or trained personnel is dangerous and may cause serious injury or death.
4. This product is suitable for use in waters above 10 Degrees Celsius.
5. Inflate the product before use and check the product for damage or leakage. Never use products that are damaged, leaking, or showing signs of performance failure.
6. The maximum canning pressure of this product is 3000PSI, and it can't be used for gases containing more than 40% oxygen. Please use clean and dry compressed air.
7. Store the product in a cool, dry place away from direct sunlight. 
8. This product is a high-precision product. Please do not disassemble this product at will. Unauthorized disassembly and assembly of this product may damage the product.
9. Do not use this product separately. Need to be accompanied by two or more people.
10. After use, please wash the product with clear water.
11. The pressure gauge indicator reaches the red area, please rise to the surface of the water and use it again after inflation.
12. First time please practice in the shallow waters.
Warm Prompt:
1. Before using this product, please carefully read and understand the product manual.
2. The aeration value of the product shall not exceed 20MPA.
3. Do not fill gas with an oxygen content greater than 40%.
4. It will be faster to inflate the product using a matching special switch through a large oxygen tank or an electric pump. A manual inflating pump is used as a backup filling method.
5. After filling the air, you must release the pressure first! Otherwise, it could be dangerous.
Share
View full details