When romantic picture of underwater come into your view, can you still suppress your inner desire for freedom? Life is limited, but passion is infinite. Take a deep breath, it's time for underwater!
But people always have many questions about the diving equipment, and SMACO will answer for you! 
Question 1
Do I have to miss the charming waters of my trip again and again because of there's no dive shop nearby?
Answer
No, you don't have to miss any beautiful underwater adventure.
Question 2
As a beginner, should I be discouraged by the high cost of traditional diving equipment?
Answer
No! There is a more economical way for you to approach the underwater world.
Question 3
Can I breathe more easily during an underwater hull maintenance?
Answer
Yes, you can! Portable air scuba tank can help you.
Absolutely, SMACO scuba tank can help you solve many problems quickly.
Read the carefully prepared selection guide for the 3 types of cylinders below and pick your first SAMCO cylinder!
Upgraded 0.5l gas cylinder of SMACO, a charming underwater genie with a conspicuous look. This is a totally new gas cylinder, innovative and portable, suitable for snorkeling and recreational diving within 0-10 meters. 
It is 0.5liter capacity, provides a breathing time of 6-12 minutes. The bottle is lightweight and compact, with a net weight of only 1.15kg, easily placed in suitcase when traveling, allowing you to enjoy the waters anytime, anywhere!
High-precision explosion-proof valve to ensure underwater breathing safety, silicone breathing mouthpiece, comfortable to use. Take it for diving, dance with the schools of fish, watch the bubbles rise, and feel the presence of the breath more intensely than ever before.
If you need to dive for a short time anytime, anywhere, the S300Plus is the perfect choice.
The S400 has made a stunning appearance on an outdoor reality show as a backup air source for professional underwater adventures. With its upgraded capacity and portability, it has become a popular member of the SMACO tank family.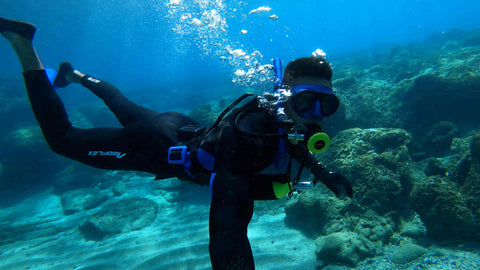 1L capacity, provides 15-20 minutes breathing time for you to do some diving practice and hull inspection works. Net weight 2.33kg, including portable belt bag, and valve equipped with high-precision underwater fluorescent pressure gauge for underwater viewing supply.
Whether you're a professional diver, a lifeguard on standby, or a crew who often works in shallow waters, the S400 is the perfect assistant for you. 
Of course, if you need an extended pressure gauge, the S400Pro can be selected.
 For More Breathing Time: S700
"I want to enjoy underwater world longer, so I usually take 2 1L bottles with me, so maybe you could have 2L scuba bottles? "  With real feedback from SMACO customers for the needs of longer breathing time, the S700 was born.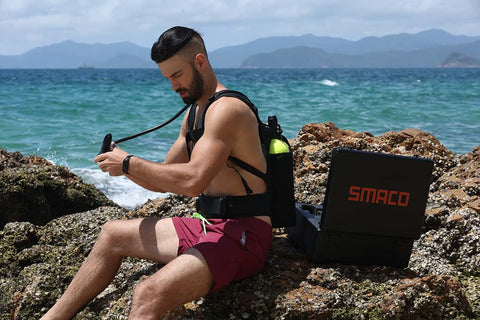 2L capacity, continuous supply of 20-25 minutes breathing time, It is currently the largest capacity scuba tank of SAMCO. Net weight 3.61kg, equipped with an aluminum hard case and a special diving vest, portability is not a problem. Moreover, the optimized extended pressure gauge is better to check at any time during the dive.
If you're looking for a portable scuba tank that supply a dive time as longer as possible, I think the S700 will be your first choice!
————
After learning that 3 portable scuba tanks of SMACO, have you decided?
All SMACO dive tanks have DOT certified. They meet the different user and scenario requirements, supplying the breathing time of 6-25 minutes. It's great that they are safe and portable, and the price is more accessible to the public. Also, we have the SMACO HEAP1 electric inflatable pump for you to quickly inflate.
Get your first SMACO scuba tank today!
Back to: Diving Equipment page, grab your favorite bottle and have a deep underwater breath!